Hello... Ive lurked around here for a while and finally decided to join. Because I wasn't currently a Boxer owner I just read some and enjoyed looking at everyones photos. Well... I will once again be a Boxer owner - or should I say owned by a Boxer soon. More on that in a bit...
As the thread topic suggests I will be a repeat Boxer owner and Im curious how many of you have done the same. Not so much as in owning multiple Boxers at once but as in having a Boxer and then at a point in the future having a second one. Please share your story!
My story.
I was a Junior in HS and saved up for the dog I had always wanted.. A Boxer. I even saved up for the ear cropping prior to buying the puppy. While this was over 20 years ago I still remember picking out Bailey and the long wait until I could take her home. What a wild little dog she was - easily the most difficult puppy Ive ever had. But I was determined and successful in raising an amazing dog. She lived a long 13 years with me. And the day she passed is as vivid in my mind as any other. My wife who knew Bailey for over half of her life also came to love this breed and this dog. While our current Boston Terrier would rival most any dog as being "the worlds greatest dog", there has never been a better dog than Bailey in my mind. While she died over 10 years ago, I think about her often still to this day.
Since that day we have had the privilege of sharing a home with a LARGE English Mastiff and a Boston Terrier. Hank our Mastiff passed on some time ago and the time felt right to look into getting another Boxer. My three kids only know of Bailey from pictures and stories for the most part and have wanted to have one of these amazing dogs of their own. So after over 10 years I am doing it again. We have trouble sleeping my wife and I are so excited. And we have to wait 3 more weeks! I remember how difficult my Bailey was as a puppy and hope we have an easier time with this one but don't expect to. We look forward to owning a Boxer again! I can't wait! Im interested in hearing about those of you who, like me had a boxer and then again had another one at some other point in time.
And because pictures are so fun... (unfortunately the photos aren't very good quality)
Bailey...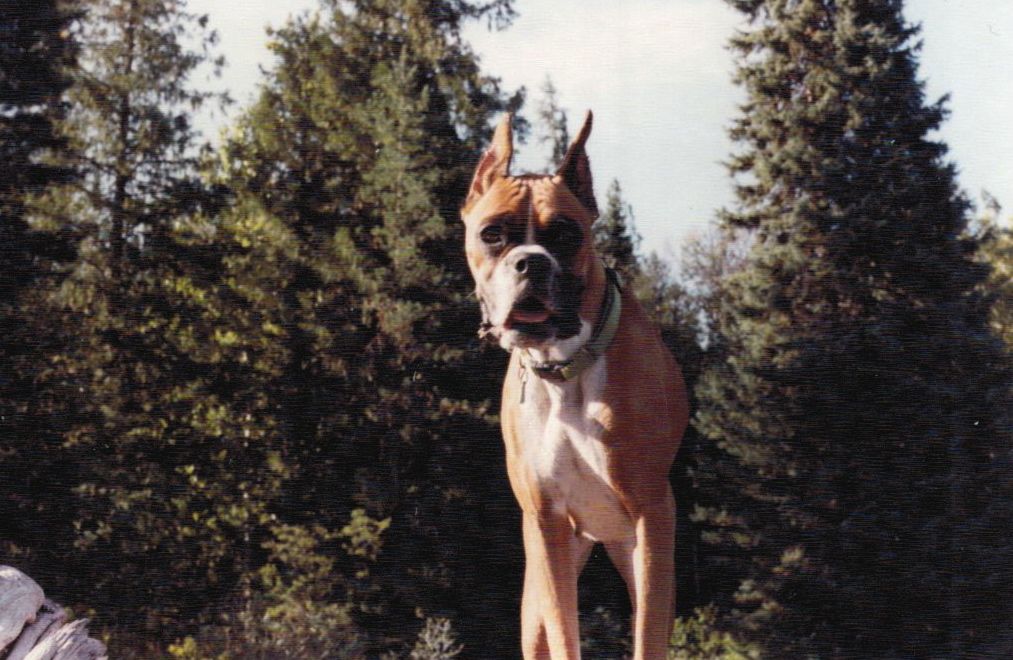 This is Cy (or Ruger or Blitz - still deciding). We picked him out today and love his markings.