Quote:
Originally Posted by tootsie
Let us know how he does after the cleaning regimen.
well his ears cleared up after about 3 days of cleaning once a day. no more head shakes.
his chin area is looking a little better. though not completely cleared up. it has stopped progressing. i'm continuing the peroxide on the chin. i thought about using the ear cleaner on his chin. but wondered if it might burn. it has venigar and boric acid in it. he's such a good boy when im treating him, even holds his head back so i can do it. i dont want to put something on that might burn and make him dislike my treatments.
i cant tell any difference in the bumps on his muzzle under his nose. better or worse.
he also developed a couple of small bumps on his head between the ears. they scabed up. the scab fell off now theres just a couple little dots with no hair.
none of this seems to be bothering him (except the ears).
though the past couple of days his appitite has been off. only eating once a day instead of his normal 3. and this morning he threw up a little bile and spread slobber all over the carpet. probably because of an empty stomach. not to worried about him going off feed and throwing up as he has done this once or twice before. i can hear him just now eating his breakfast @ 12:30
__________________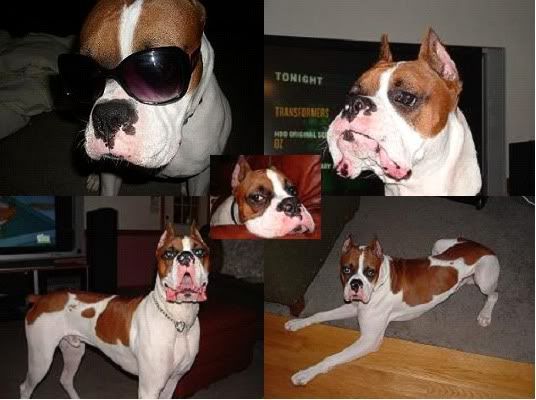 **********************************JACK dob 11/01/07********************************
" there are dog people, and there are boxer people " quote OctanesMum
" If it's not a Boxer, it's just a dog " quote unknown