I am going to give you all a little insight to our Boxer search experience.
My family and I have been researching and spending time around Boxers for about a year now. We finally found a Boxer puppy online and everything seemed great. They didn't seem like a puppy mill and the litter was their last one before getting the female fixed. We met the Dad, Mother, and Brother of the puppy. They all seemed really healthy, in fact Dad was over 10 years old and still full of spunk. So we purchased our beautiful Laila from these people. The first mistake I did was we took her home at 6 weeks old ( I know this should have been a red flag, but the other puppies were already picked up and we didn't want to lose her) She was due for her second set of shots at 8 weeks of course so we took her in to get them. That is were things took a turn for the worse. She got VERY sick and the vet thought she had Parvo. We did a Parvo test and it came back negative. The next thought was maybe she ate something that was blocking her intestines. So we did X-rays. After that they determined she was just dehydrated. We had to take her home and give her IV's for the next two days. (I felt terrible doing this) After a couple days she was not getting better in fact she got worse; couldn't eat or drink, could barely stand, etc.. We took her back in and they ran some blood tests. It turns out her liver was bad and the shots were pumping toxins through her system. The only thing we could do was send her to heaven (one of the saddest times in our lives, I felt terrible for my kids) I am not sure how I became so attached in 3 weeks but I don't think I will ever get over the loss of her.
Fast forward a few months and I could not get the idea of owning a Boxer out of my head. I had still been searching online and decided that I was not going to support a BYB ever again. We decided to look into some Boxer rescues. We sent our app in and had a home inspection. All good to go. We waited and waited and waited with no Boxer. Finally my wife decided to search Humane Society websites. We had tried the normal petfinder and such with no luck. In her searches she came across a Boxer who was just brought into the Humane Society. I couldn't believe it! He looked so handsome and he looked absolutely perfect. They were closed, so we called first thing in the morning. I had prepared myself to the chance he could be gone already. When we called someone was on their way to check him out. So I figured our chances were very slim. Sure enough about an hour later they called and he was still available. We drove 2.5 hours and picked him up. We could not have asked for a better dog. They think he is about a year old and he is the goofiest big baby ever.
Here is our big boy Zeus: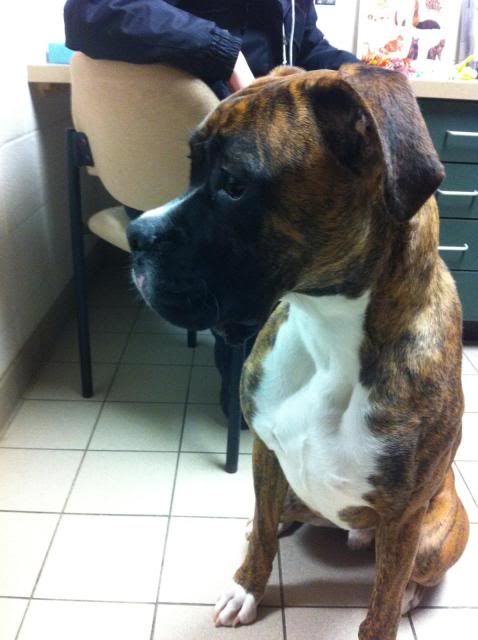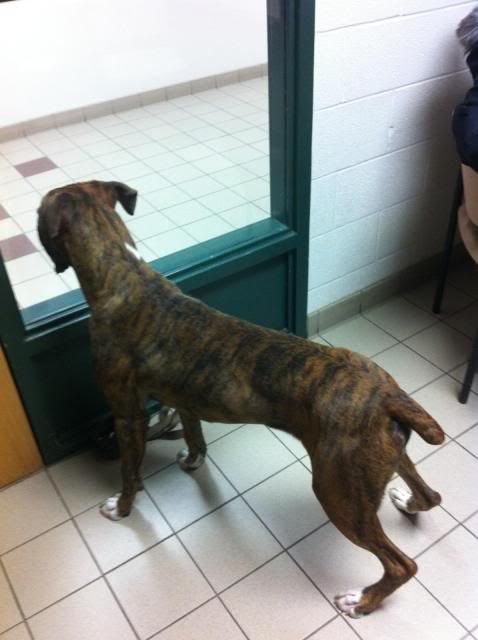 This was within a hour of being home. He has already taken over the couch