Re: Grammies Homemade Liver Treat Pictorial
---
[quote=grammie\";p=\"122597]
Quote:
Originally Posted by "BoxerPerson\";p=\"122483":1w3r86na
Hmmmm this receipe sounds very familiar....
HAHA hi claire!! how come you only have 18 posts since you joined????!!
__________________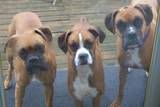 Goofy
Phoebe
Willie
Ollie-ver &
Zoe
Footprints on My Heart: Hailey, Daisy, Lilli, Winnie, Nikki, Casie, Cynder, Molly, Max Tyler, Millie, Ellie, Jessie, Kitty, Felix, Levi, Baby, Sandi, Lance, Billie, Sonny and the rest of my animal children who touched my life.