Discussion Starter
·
#1
·
Hello!
I am brand new to this community, and I am so happy that I found it.  What a great idea!  My name is Tara, and my partner Morgan and I just got a new boxer puppy named Beckham (pictured below  
)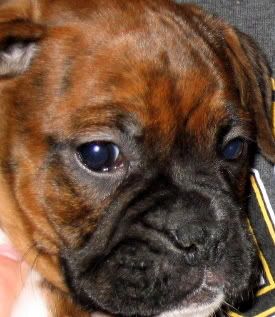 He's an 8 week old brindle and we are so in love with him!  He's very smart, and has been AWESOME with both crate training as well as housebreaking.  We only picked him up on Sunday, so we feel like he's making very good progress
However, his collar is becoming an issue.  He hates it (as most puppies do), but he is scratching so much he has given himself a scab on the right side of his neck!  Could this be due to the fact that it's a nylon collar and he's having a reaction?  We took it off only momentarily (we don't want him to be without one) and he competely stopped scratching.  As soon as it was back on, he started scratching again big time.
Is this common with shorthaired breeds in terms of sensitivity to materials?  We were thinking of picking up a leather one instead tonight.
Any advice is appreciated, and it's great to be here!