Discussion Starter
·
#1
·
Hi everybody! I am Suzanne and I have a 1 year 5 month old boxer named Poe (Brasalos Telltale Heart Poe), he is our first boxer and we love him with all our hearts.  We are very excited to be here and hope to meet some new friends.  Poe is recovering from Pnuemonia and pancreatitis this week (still unknown cause, but I won't go into details on my introduction). Needless to say that has made last couple weeks very long and emotional.  Let's see what else can I tell you about us, my fiance's name is Cliff and we are pregnant with our first child due Dec 16th 2007.  We also have two Pomeranians (rescues) named Marley and Little Bit (of respect). Glad to have found you all and can't wait to get to know you and your families.
Here are a few pics of my boy...
Starting from puppyhood, this is Poe at about 3 months old.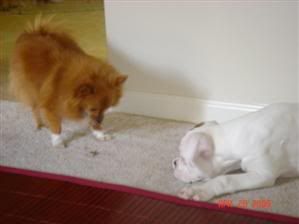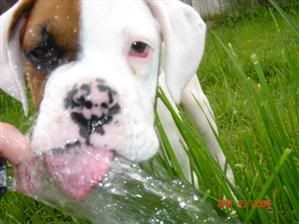 Here is about 10 months...
Poe's First Birthday with homemade Liver cake (yummy).
Here is a recent shot...