Discussion Starter
·
#1
·
Well, I decided last week that as the pups seem to be housetrained, we would try leaving them out of their crates overnight and in the daytime and let them have the run of the kitchen/dining room. We put child locks on all the kitchen cabinets and removed anything that we thought they could damage or that could do damage to them. The first couple of nights and days they were great, no accidents and no damage  8O
On Friday morning my OH got up at 6.30 and fed the pups before he went to work. He said that they were fine when he left. When I went down to let them out before I went to work at 8, I walked in to find this......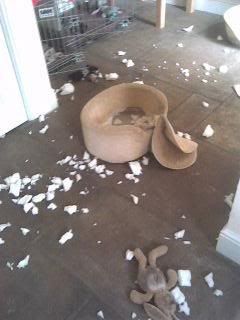 I thought it was so funny that I had to take a picture! Although it is Hugo's basket, I believe that it was a joint effort - I can't believe that Roxy was innocent (although they were both giving me those innocent puppy eyes!!)
The funniest thing was that ripping it up had obviously tired them both out as they were really docile, and as I was clearing it up Roxy was lying in her basket watching me and Hugo was wondering around looking at me like 'well, where do I sleep now??'! I just kept saying 'honey, you'll have to go lie in your crate cos you ate your basket!!'  :lol:  Haha!! I was wearing a long skirt and as I was knelt down sweeping up the foam, Hugo kept getting settled on my skirt on the floor!!   :roll:
I had a panic at work yesterday lunchtime as I realised that I'd left the kitchen rubbish bin in with them (I usually move it into the hallway before I leave) and rushed home with visions of rubbish all over the floor, worrying about them cutting themselves on empty tins etc. I got home and they hadn't touched it!!!    
 It's so funny how they don't do the things that you expect them to do (or at least not when you expect them to do it!!)