Discussion Starter
·
#1
·
Oh there are so many wonderful things about my Titus, but I'll let you watch this video before I tell you more...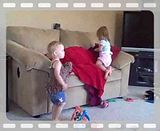 This video was taken exactly 27 days after we rescued Titus. His story is one initially of being loved, but ultimately the victim of poor planning. His first "parents" bought him from a breeder and took wonderful care of him, including chipping him, neutering him, and paying for a costly foot surgery. In the end though, they divorced and neither could/would take custody of him and so he ended up at Boxers and Buddies, our local rescue. At 10 months old, Titus was a large puppy, to say the least, but still cute in the way that only puppies could be and was adopted by his first family. Unacustomed to the exuberance Titus brought to the table, they were overwhelmed and within 2 months, he was back at Boxers and Buddies. This time, being more cautious in the choice of families Titus could go live with, Boxers and Buddies finally agreed to what they deemed a suitable home. A stay at home mom with 2 boys. It seemed a match made in heaven-until the "cute" factor wore off. Again, back to Boxers and Buddies Titus went. By this time, Titus was feeling a little wounded and more than a little introverted. I saw his picture on the website and fell in love.
If only the story were that simple........I went down to meet some of the Boxers up for adoption and was shown every male (we have a female already) BUT Titus. You see, I run an in home daycare and his last family said that he was too rough to be around any child under 12. While I loved all the babies I met, none were the "right" dog for our family. I volunteered and got to know the staff a little better and was FINALLY allowed to meet Titus. It was LOVE at first lick!!! My female adores him and my JRT tolerates him (that's good for this house). My children adore him and he even won over my hubby. The negotiations for Titus began. Based on the surrender papers, Titus was: too rough with young children, destructive, a holy terror, untrainable, a bull in a china shop, ready to kill the family cat, afraid of water, pulled constantly on the leash, chewed everything in sight and was not house broken. HHMMMM....even at first this didn't seem right. BUT, after an hour's worth of convincing, I agreed to IMMEDIATE obedience training (to begin 4 days after adoption) and they agreed to bring Titus to the house.
The minute he stepped foot in the house, he knew he was home. As you can see from the video, he is a gift from heaven and we are so lucky to have found eachother. After 4 weeks, I can feel 100% sure in telling you that: he is as gentle with children as a baby's own grandmother, is as sweet as the day is long, has only destroyed 1 bag of charcoal, is eager to train and understands so much already (can stay for 1 minute at a time, with distractions), cuddles with our kitty Gabby, loves to swim when we go camping, has learned to walk within 12" of me on leash without pulling, only chews on his toys and is 100% housebroken.
I am so thankful to those families for returning him to a place that would take good care of him until I could go rescue him and give him the wonderful life he deserves. Thanks to both my Boxer babies, I will forever be owned by a Boxer......