Rocky and I spent the weekend running NADAC agility courses. We had a blast!
We earned a few new qualifies!
Tunnelers: 2nd place Q
Regular 2: 1st place Q
Jumpers 2nd place Q
Jumpers: 3rd place Q earning his O-NJC title.
I have to get my videos from a friend, from this weekend. When I get them I will share..hopefully later tonight
A photo will have to do for now ...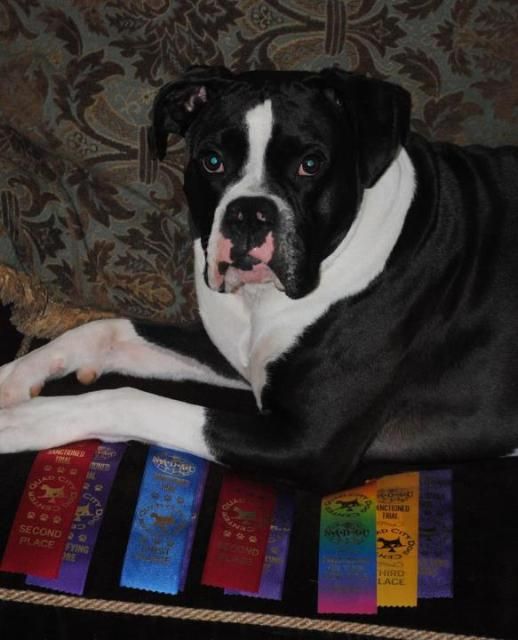 Edit: Videos added
While at course night tonight I mentioned that Rocky didn't want to weave at the trial and that I was trying to figure out why. He didn't want to weave tonight either. He was totally blowing past them or not giving an effort. I was rubbing him down and stretching him and a fellow student had me check his range of motion. Sure enough, he didn't want to turn his neck to one side.. So his neck and/shoulders are out of whack. Explains why he wasn't himself and didn't want to weave the past few days. I knew something was off with him, I just couldn't figure it out. Calling to get a chiro appt for him 1st thing in the morning.
Rocky's Jumpers run from Saturday. Q 2nd place.. Beat by a border collie by .2 seconds! Darn it! LOL.. It does look like he is moving slow, but his YPS was 5.15.
Jumpers run from Sunday. Earning his O-NJC title.
3rd place.. Great! Except a spin at the end.. Oops!
Here is a NON qualifying run. A little distraction.. Also, he didn't complete the pinwheel correctly (then jumped another jump before I could get him back to fix it). Then weave issues. Rocky, Rocky, Rocky.. lol
We did Q on this run. Some weave issues again.. and a little distraction.. (What am I gonna do with this boy!?) lol
Hope we can get his neck feeling better to where he will weave.. before AKC next month.
https://www.youtube.com/watch?v=__nkD8inHDI
I'm pretty pleased with him considering we haven't trialed for about 6 months
Some little distractions, but nothing like before haha