Discussion Starter
·
#1
·
So yesterday I was sitting at the computer when I heard woo-wooing going on. In the baby monitor I heard Sarah playing with her toy car... noise maker thing. lol At first I wasn't sure if it was woo-wooing but the second time I heard it, I grabbed the camera put in on video mode and headed over to record Odin woo-wooing! I thought I was being really careful about it so I sneaked a peek down the hall and he spotted me. Guess he was woo-wooing in the hall.
Anyway, I stole Sarah's toy to see if I could get Odin to do it while recording him and all I got was 1 woo... no woo-woo. It's funny though cuz' I took like 6 video's and the first one is me turning it on to see if I could get him to do it (he looks so annoyed with me too)! Anyway... by the last video I was doing ANYTHING to get him to give me some sort of reaction. Instead of sharing all six I'm just sharing the one that I actually got a woo on.
Oh, and a couple of people have asked me how Aiden is doing so here is a few. I can't remember which ones I posted last so sorry if there's a repeat.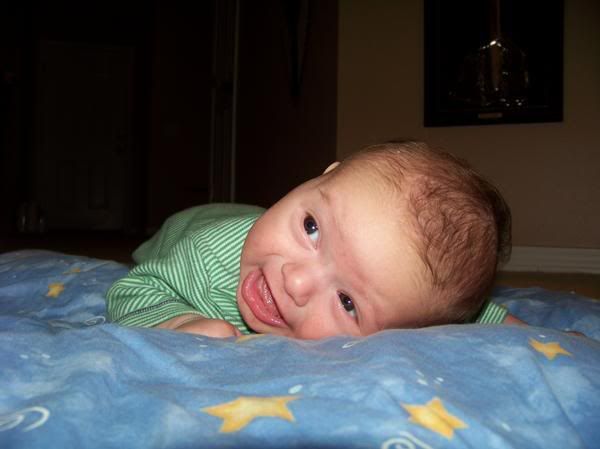 OH AND... lol I forgot I wanted to share this! I can always tell when Odin's crates been hijacked! He starts pacing around and whimpering (sort of)... and when I go look this is what I find.
I tell him to just go in there and lay on her... that she'd move then... but she's the alpha dog! LOL
He may look tough but he can't even hold his ground with a chihuahua!!!  :lol:
***Hmmm photobucket said it uploaded but I can't find the video!