Discussion Starter
·
#1
·
So hubby may be SUPER COMPUTER SMART but has no clue how to use our camera. I asked him to take pictures of Odin at the dog beach since some one had to stay behind with the kids. I must say I'm really pissed that the only strip of beach they give the dogs is TINY and SUPER UGLY. We have sugar white sand... even the sand that faces the bay like the dog beach and yet their beach is more dirt colored and don't even get me started on the water! ANYWAY... here are the pics...
Odin actually in the water...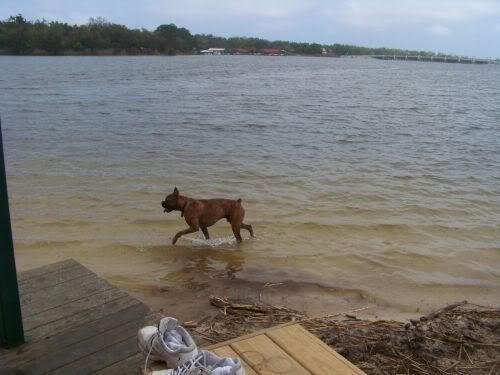 Seems to ACTUALLY be enjoying the water!
Hubby said it was only because his lil' gf there LOVED THE WATER... and Odin LOVED her! lol
Drinking SALT WATER which later made him sick!!
Okay now this is what I found amusing... HUBBY HAD NO IDEA he was taking panoramic pictures!
And my fav of all!!! I saw it on the LCD camera screen and was like "Hubby, who's boxer is that... that looks like Odin..."

IT IS ODIN DUHHH!
Just wanted to share our pics! I haven't been on... super busy but I had to share these!!  :lol: