Discussion Starter
·
#1
·
We make these for our cookie drive, they are good, dogs love them and thought you guys may like the receipe to make a batch for your kids....however beware of cookies theives!!!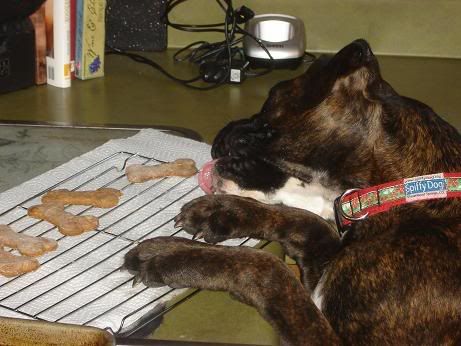 Here is a recipe for Peanut Butter Cookies -
Ingredients -
Low salt/sugar peanut butter
Low salt Chicken broth
Peanut Oil
Rolled Oats
Oat Bran Cereal
Wheat Flour
Honey
Maple Syrup
Bananas - ummmm loves these.
Directions -
Preheat oven to 350 degrees
Combine in medium sauce pan:
1 Cup Peanut Butter
2 Cup Chicken Broth
1/3 Cup Peanut Oil
1/4 Honey
1 Tablespoon Maple Syrup
Heat to simmer then cool
Combine in a Mixer or Large Bowl:
1 Cup Rolled Oats
1 Cup Oat Bran
2 Bananas
Add the cooled mix from the sauce pan to the dry ingredients and mix.
Blend slowly 4 cups of Wheat Flour until dough forms
Roll out the dough and use a small "bone" shaped cookie cutter or any cutter to cut the biscuits.
Place them on a non-greased sheet tray and bake at 350 for 30 minutes.