Discussion Starter
·
#1
·
When I introduced myself in the Welcome forum, I told about how the loss of my 'best friend' Dixie Diana (my beautiful fawn Boxer girl) led me to want to open my heart and home to dogs in need.
Below are some pictures of my Gang.
Most of our dogs have special needs, but they are all very much loved.  
Brittany is 8 1/2 years old. She was born with a heart murmur that is closely monitored. It has only gotten slightly worse over the years. Brittany loves her 'baby dolls'. She sleeps with them and meets us at the door when we come home from work with one of them in her mouth to welcome us home.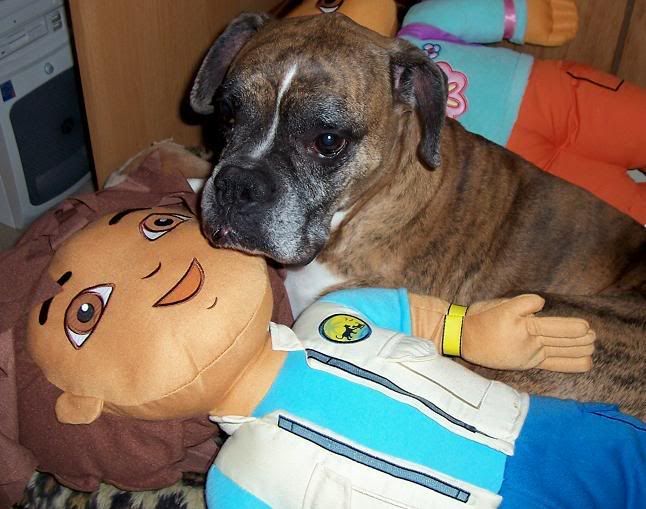 Dixie Rose with be 2 years old next month. She is very thin. She has problems gaining weight. She has been impossible to house break. She is like a child with Attention Deficit Disorder. She can't keep focused on anything for more than a minute. She is easily distracted and forgets what she is supposed to be doing. The Vet says she has the K9 version of ADD. He says she is so wound up and hyper that her metabolism is burning more calories than she takes in. Therefore she becomes thinner and thinner. He doesn't think that she will ever be totally housebroke because of her short attention span. He said that most people would rather put a dog down that is like her than to deal with all her problems.....BUT not us, she needs someone to love her just the way she is.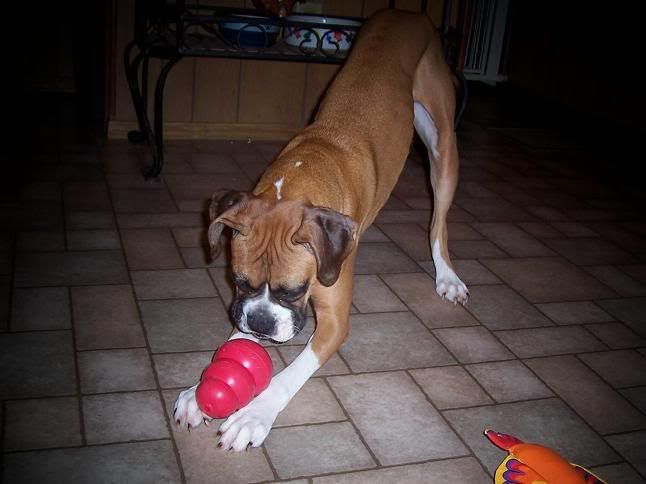 Skylar our Dalmatian is 6 years old. He is a giant size baby...lol. He hates to go outside for more than a few minutes. If we take him out to play in one of our 'doggie playgrounds' he cries to come back inside.
Skylar has skin problems but we have been able to keep them under control for the most part.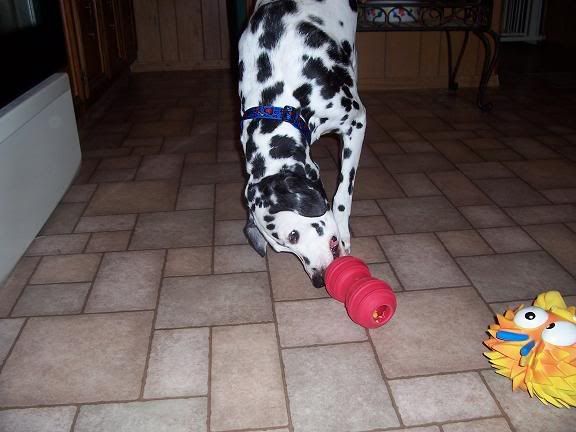 Kash our boxer/mix is approximately 2 years old. We have had him for a little over a year now. We rescued him from euthanasia. His previous owner turned him into the pound because he had behavior problems.
All Kash needed was someone to love him and take time to socialize him. He gets along well with all our other dogs and has a blast romping and playing with them. He also had skin problems but diet has got it under control.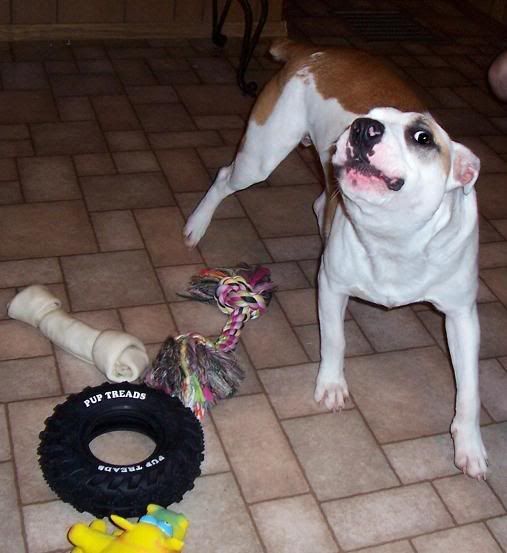 Marlee our Yellow Lab is 1 year old. She is HYPER and I do mean HYPER. She goes non-stop all day long. She wears me out!!  LOL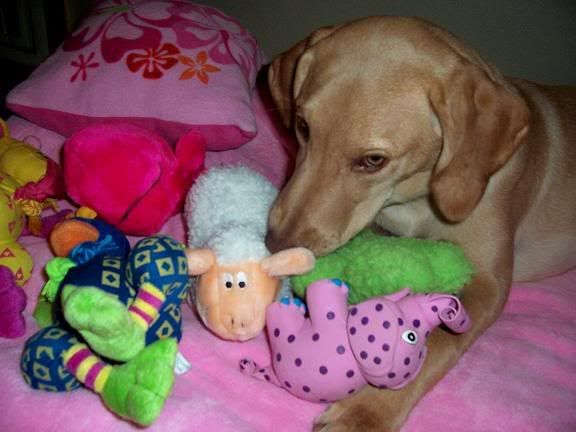 Tristan our Lab/Great Dane is a rescue. He is approximately 2 years old. He has a very sad background. He was thrown over the fence of an animal shelter in the middlle of the night and abandoned. He had been badly beaten and he had a terrible case of Eye Etropian. (The Eye Etropian has been surgically corrected now). He was terrified of people...especially men. He spent months in a shelter waiting for someone to give him a loving home. But because of his timid, shyness and fear of people, he crouched in the corner everytime someone came to look at the dogs that were up for adoption. So Tristan was passed over everytime. I read about his story on the internet and I contacted the shelter to see if they still had him. They couldn't believe that someone called about him, they said they had given up hope and that the administrator had ordered that he be put down at the end of the week if no one came for him.
WE made arrangements to drive to the shelter to see him that day and the rest is history.
He has been with us for 9 months now and he is such a sweetheart. He has gotten past his fears and is very happy now.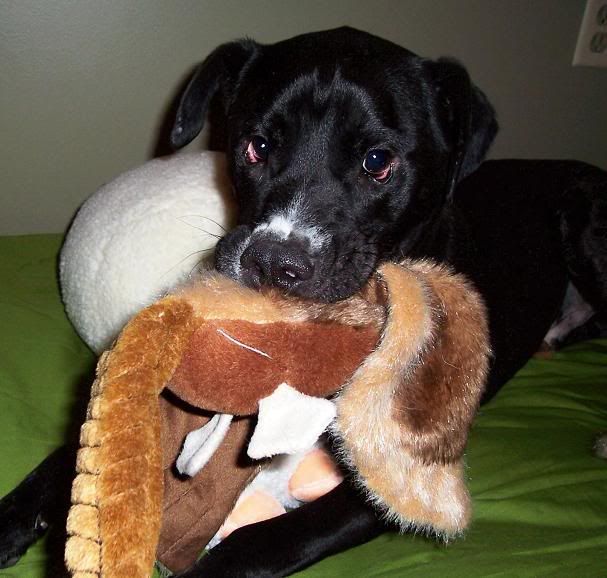 Tonka one of our English Bulldogs is 9 months old. He is a real trip! He loves attention. He also loves to take baths. If he catches you going in the bathroom he starts whinning because he wants to take a bath...lol. Its a good thing he likes baths....he has a lot of trouble with skin problems that requires him to be bathed in special shampoos every three to four days, so he gets lots of baths!
He had Cherry Eye but we had it corrected with surgery.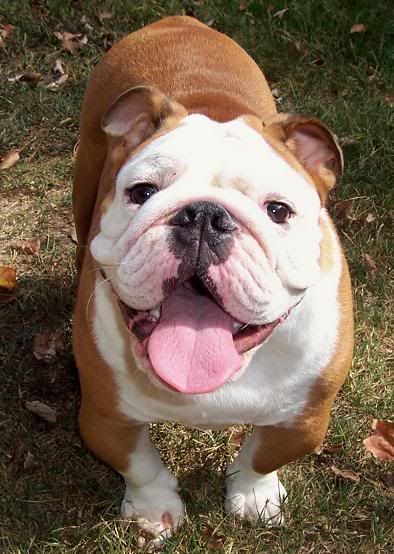 Tyco is our other English Bulldog. He is also 9 months old. Tonka and Tyco's birthdays are only two days apart.
Tyco is the bigger of the two. He weighs 70 lbs and is only 9 months old!
Tyco can spend hours sitting outside with me on the porch watching the clouds move, or leaves falling from the trees. He is very attentive. He is fascinated by everything he sees and pays close attention to things.
He is also strong as an OX. If you are walking him or should I say if he is walking you, and he decides he wants to go look at something...you're going with him!  LOL
He has skin problems, but not as severe as Tonka.
Below is Dixie Diana, my angel in heaven.
Cancer took her lower jaw bone when she was only 3 1/2. That made her tongue hang out of her mouth the rest of her life.
At the young age of 7...Lymphoma took her life.
She was my best friend. It has been 18 months since she passed, but there is never a day that passes that I don't think of her and miss her.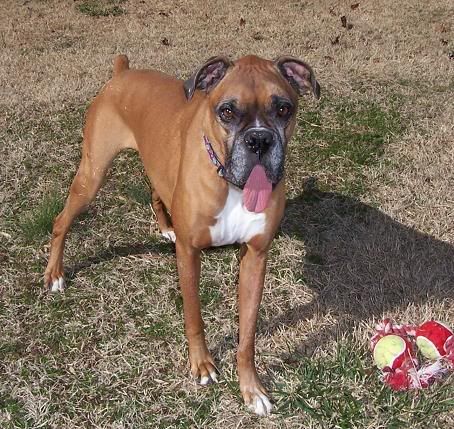 Below is the sign and little memorial area we fixed up in front of the new 2,000 square foot play area we built in honor of Dixie.