Discussion Starter
•
#1
•
I've been getting Lucy used to the crate by just leaving it around, putting some toys in there, giving her an occasional treat in there.
She normally sleeps on her little dog bed right at my feet, but today I brought the crate over next to me at the couch and put her little dog bed in there. She very easily went in there and I shut the door. She laid down and just kind wanted to lick our hands through the bars. Then she just went to sleep without whining or fuss and slept in there for almost 3 hours! Oh, and I finally opened the door because she wasn't asking to get out and I was getting worried that she'd just lay there forever lol. When I opened the door, she just stayed there. I petted her and rubbed her belly and she went back to sleep!
Then for her second nap of the day, I took the crate to the breakfast room where I would prefer she sleeps and put her in it when she was tired. She laid right down and went to sleep. No whining at all.
I am so proud of her. I hope it goes that well tonight and in the morning when my husband goes to work so we can finally get some sleep!
I love this one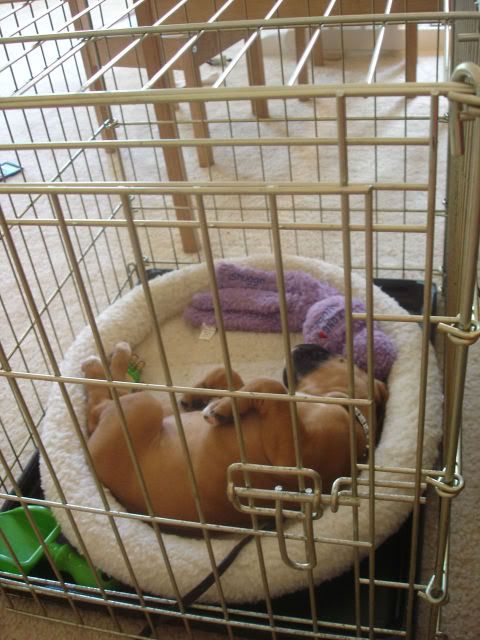 And konked out in the breakfast room